Cross visit to Ireland- Arable crops
Initiating the cross visit
After discussion about the opportunity to co-ordinate a visit between JHI and Teagasc project partners, the idea was floated on the Scottish hub whatsapp group and the IPMworks farmers responded with interest in taking up the offer of an agricultural voyage of discovery over the water to their near neighbours. Interests and experiences varied within the Scottish group which made for some interesting discussion along the way. The first IPMWorks cross visit was therefore arranged for the Scottish hub to visit famers in the Irish hub and the Teagasc research centre in Oak Park on June 15th & 16th. The purpose of the visit was to look at different approaches to IPM in Ireland.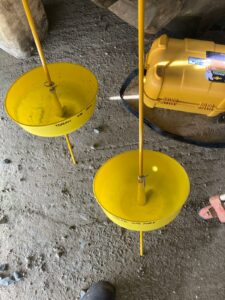 First stop, Tom Tierney
The first visit was to Tom Tierney who is a regenerative farmer and a member of BASE Ireland, Tom practices a reduced input approach to crop management using crop nutrition and pest monitoring to inform his decision making. Tom was growing winter wheat using a combination of biological products and crop nutrition and on the day of the visit, the crop had received one 0.75% rate of a fungicide in total. No insecticides had been applied on the farm in a number of years as he is participating in a pollinator scheme and also uses yellow traps to monitor aphid populations in conjunction with a Teagasc project.
Second stop, Don Somers
The second farm visit was to Don Somers who has recently installed a Top Con system on his farm in order to use his inputs more accurately. Don is using reduced cultivations and crop rotations to reduce his pesticide requirement and he is also participating in the aphid monitoring project. Don is using a mapping system on the farm to target inputs more accurately on the farm including fertilisers and plant protection products. Don grows cover crops, as does Tom, to reduce weed burden but also to trap any nutrients that remain after harvest and to prevent losing them to ground water or watercourses.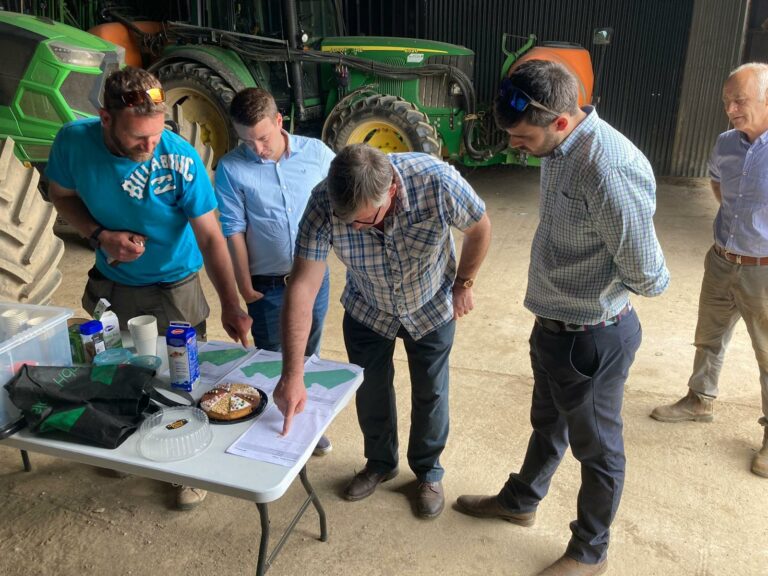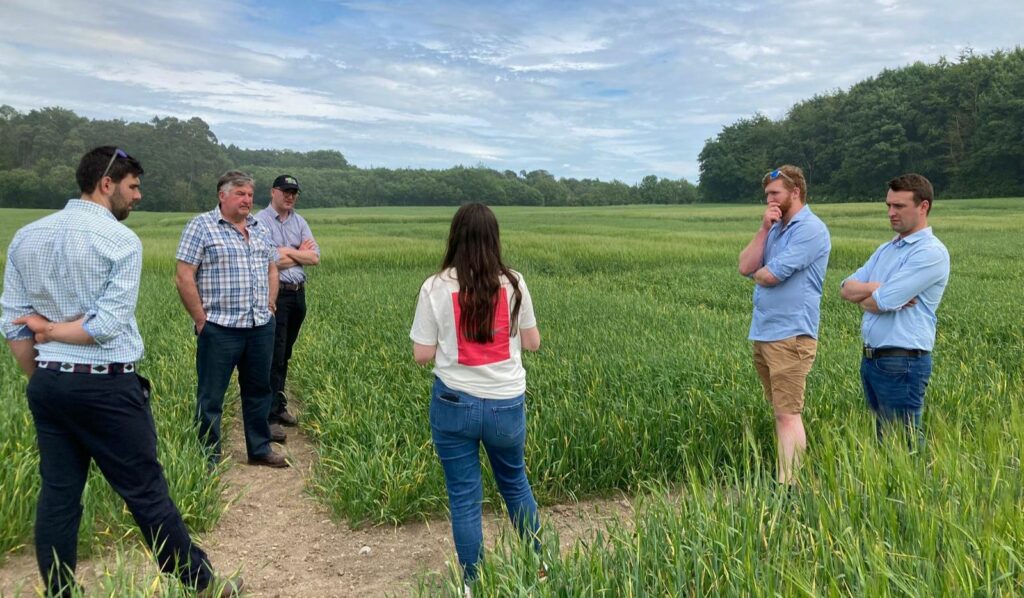 Final stop, Teagasc Research farm in Oak Park Carlow
Finally the group visited the Teagasc Research farm in Oak Park Carlow where they were shown some of the projects that Teagasc are involved in where the aim is to implement IPM measures to control various pests such as fungal diseases, aphid vectors of viruses and control of grass weeds.
Feedback from the Scottish hub coach Andrew Christie
What was the main interest for the Scottish hub?
With most from mainly plough based systems, there was interest in the reduced and no-till techniques being applied by Tom and Don and how these could be incorporated successfully into our current systems in Scotland. Fertiliser prices have piqued interest in variable rate techniques and potential for reducing inputs, which both farmers achieved using different approaches proving that there are several possible methods. A point highlighted was that within a regenerative management regime, you must move towards a whole system approach including building soil health and promoting beneficials – a truly integrated crop management system.
Talks from Teagasc experts added an extra level of discussion as the issue with BYDV, grass weed resistance and ramularia are set to become bigger talking points in our area as our climate changes in future; the latter particularly so, with this late season disease increasing in prevalence and the national importance of our malting barley industry.
What came out of this visit?
We had excellent feedback from the group after the visit, and a big thanks to the host from us all. One of our farmers is already planning flower mixes to promote beneficials in crop and another has decided to enquire further regarding a new drill after our trip!