Beneficials helping the battle against aphids in zucchini production – an example from a vegetable farm with organic approach
Hooglede, Belgium, June 2023
Springtime in Belgium is currently cold, but nevertheless the zucchinis are growing steadily in the greenhouse of Pieter and his wife Heidi. Pieter is one of the farmers of the Belgium outdoor vegetable hub working on zucchini of the Horizon 2020 project IPMWORKS led by hub coach Jonathan De Mey.
Pieter and Heidi run a family oriented-farm with seasonal workers and produce mainly for the contract market. While cauliflower and leek are organically grown, this is not the case for all crops on the farm. Zucchini is not within the organic cultivation but Pieter tries to apply as many organic farming practices as possible in the cultivation of his zucchini in plastic tunnel greenhouses. Besides plastic mulching against weeds, and so avoiding the use of herbicides, Pieter also plants virus tolerant cultivars.
To protect his zucchini crop against the main pests such are aphids and whiteflies, Pieters cooperates since a few years with Biobest. Eline Braet from the company Biobest advises Pieter on what type of beneficial to use when in order to achieve the best results. To control the aphid populations he applies beneficials such as Aphidius, Aphidoletes and Micromus. This biological approach has been successful in reducing the application of insecticides.
Pieter is a member of the Belgium zucchini hub of the Horizon 2020 project IPMWORKS, consisting of a mixed group of 10 conventional and 1 organic farmer (partial). The hub is led by the hub coach Jonathan De Mey from Inagro. The purpose of the hub is that farmers exchange their knowledge on applying integrated pest management (IPM) strategies to each other. In this way they can uptake new techniques to improve their IPM-based practices.
Pieter wants to improve his skills in organic farming, but legislation is not always following the wishes of the farmers. Pieter states: "If it would be accepted to grow in substrate for organic farming like in the United States, we would happily switch to organic zucchini growing". He also wants to work on more biodiversity on his farm and on the use of conservation biological control.
Pieter: "We start with high quality planting material so plants are stronger against diseases and we try to steer the climate into non favorable conditions for powdery mildew, thus limiting the need for chemical interventions".
The IPMWORKS sector leader of the outdoor vegetables Sabien Pollet from Inagro, summarizes:
"Pieter is a good example for other farmers in the hub because he's always open to try new techniques. Besides the use of beneficials as a biological control against aphids Pieter also wants to work on more biodiversity on his farm and on the use of conservation biological control. IPM is very important for Pieter and he is always willing to share his knowledge and experience with others."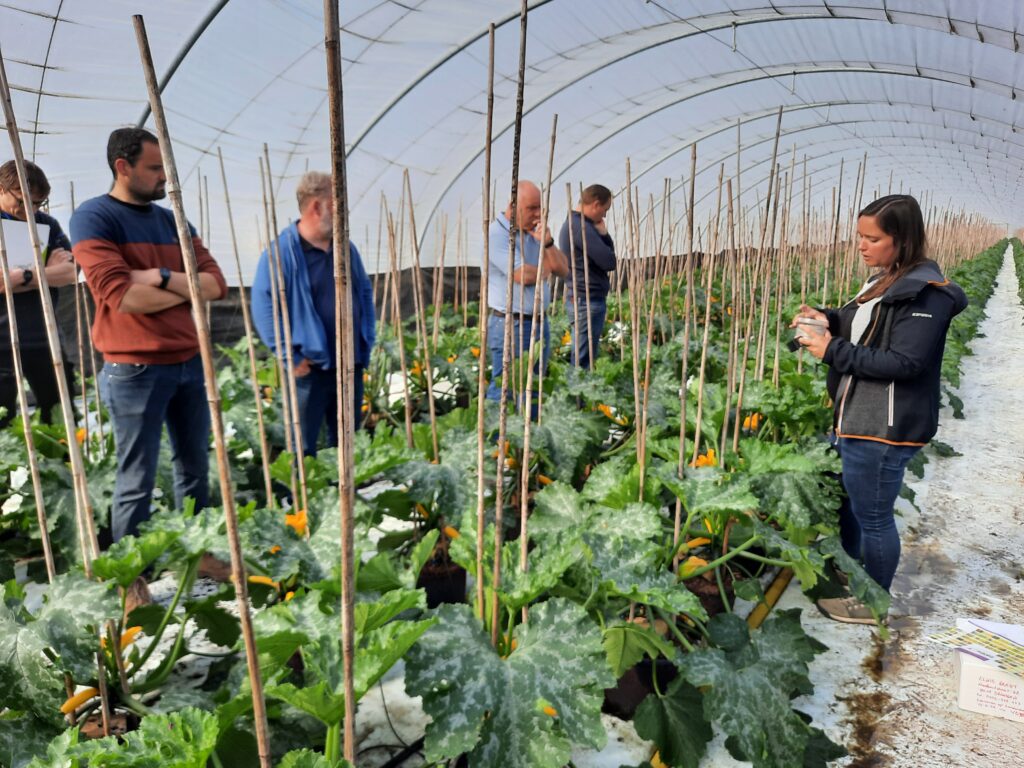 Eline Braet from Biobest explains the advantages of using beneficials against aphids in zucchini
Pieter demonstrates his cultivation technique of zucchini to other hub members
The Horizon 2020 project IPMWORKS builds a European farm network to demonstrate integrated pest management (IPM) strategies and to promote the adoption of such strategies via knowledge exchange. IPMWORKS coordinates existing networks promoting IPM and launched new hubs of farms in regions or sectors where IPM pioneers were not yet engaged in a relevant network. Hub coaches coordinating hubs will have a major role in facilitating knowledge sharing, coaching farmers to find their own IPM solutions, and organising local demonstration activities.
sector leader of outdoor vegetable sector in IPMWORKS:
Sabien Pollet
hub coach of Belgium zucchini hub in IPMWORKS
Jonathan De Mey